3 Things You Need to Know about MapleStory 2 Custom Clothes
Aside from fighting and embarking on quests, MapleStory 2 provides a good amount of other recreational activities to accomplish. From fishing to playing instruments, there's no shortage of further activities inside the game. And one of the recreational activities is to create your own designs. Here's the way to get custom clothes and outfits in MapleStory 2.
NO.1 The Way to Get Custom Clothes & Outfits in MapleStory 2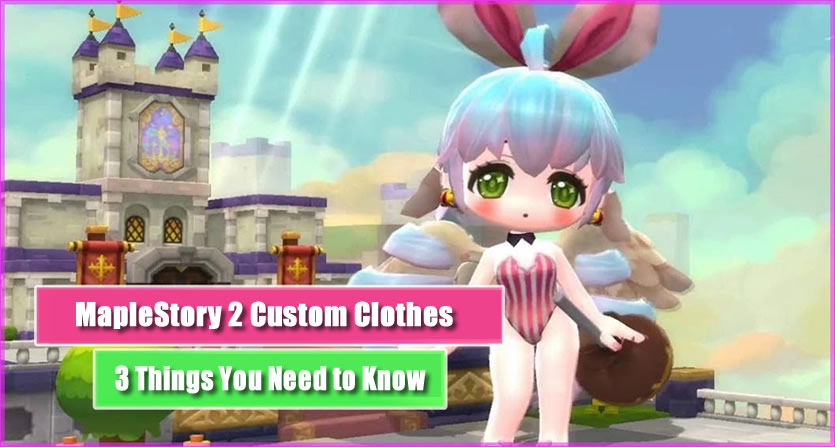 If you love designing custom clothing and outfits, you're in luck. MapleStory 2 allows players to design their own threads and even sell them for some quick Meret.
That said, if you want to get some custom clothes and outfits, you can either design them yourself or purchase them through the Meret shop, of course, if you need some mesos in the game, Cheap MapleStory 2 Mesos also on sale at ms4mesos.com for players.
NO.2 The Way to Make Custom Clothes & Outfits in MapleStory 2
If you want to express your creative side, check the lower right side of your screen and click the Maple Workshop button. To find it, just look for the white cube icon next to the house icon on the lower-rightmost of your screen.
Above that white cube should be a block with a paintbrush next to it, which is the Maple Workshop. When you click that, you'll bring up a screen of your character along with design templates. Simply scroll down and look the templates for outfits and click which one you want.
From there, you'll pull up a list of pre-made templates on the left side of your screen. Simply pick one to try it on, and if you like it, name your design. Once that's done, simply press the "Create" button on the bottom of your screen.
Take note that you will have to pay a fee. You can only pay for your designs through Merets, so keep that in mind when designing your own custom garments and outfits.
If you're not a big fan of the preset layouts, you can import your own designs to MapleStory 2. All you need to do is click the "Open File" button next to the "Open Folder" option on the menu to bring over any templates you have designed.
From there, simply assign it over to any clothing or outfits and pay the Merets to use it. You can also edit a layout in MapleStory 2 by clicking it and pressing the "New" button.
NO.3 Ways to Buy and Sell Custom Garments & Outfits in MapleStory 2
You can also sell any designs you have made to acquire Merets in MapleStory 2. Simply pull up the Meret Market by pressing J and head on over to My Shop.
When you're there, look for the "List New Item" button and click any of the pre-existing custom clothes and outfits layouts you've made. Type in your sale price, description, and tags, then list the design and wait for someone to buy it.
If you want to buy your own custom garments and outfits in MapleStory 2, click the Design Shop tab in the Meret Market to pull up different layouts from other players. You will have to pay through Meret, so keep an eye out on your money when you go shopping.
Contact Us
24/7 Email Support
Skype ID

For Game Currency :coolyou8
Buyer Complaints :[email protected] (For any dispute email, we'll reply within 24 hrs)
Kindly Reminder
Possible account termination when using illegal leveling or illegally obtained gold.