MapleStory Added Key Features to Night Walker
MapleStory has launched an update Night Walker and added a new level cap and updated skills to it, for example, "Back to the Old Maple" event, FriendStory and etc. Now you can play game in new Mushroom Castle. And Night Walker update will bring a lot of activities. Read on for more details.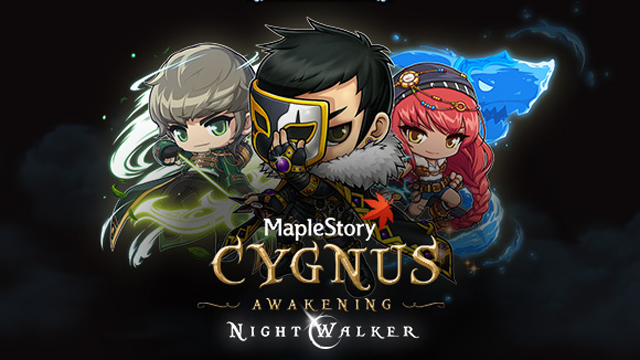 Mr. Lee's Airline

Last month Mr. Lee invited you onboard his plane as he set off on a thrilling vacation... unfortunately, the plane hit some turbulence and now you've crashed on an island full of mysterious creatures! This event has been updated with new monsters and new escape routes and is now available as ongoing non-instanced content. Journey to the lost island with your friends and gather the materials needed to make your escape as you fight off dangerous monsters along the way.

Mushroom Castle

It's time for Princess Violetta to find a husband, but the Mushking isn't the best matchmaker. Help him find the perfect groom for his daughter in this updated theme dungeon (Lv. 60 and above). Many suitors are competing for Princess Violetta's hand, and it's up to you to make sure the competition goes smoothly. Watch out! Rumors abound that the princess may be in danger...

Night Walker Reborn

Night Walker has come out of the shadows and is more skilled than ever! Take this class all the way up to Lv. 250 and unlock Night Walker's new skills, such as Dark Omen, a powerful ability that summons a flock of Shadow Bats to attack your enemies. Master the ninja star as you learn to toss 5 throwing stars at the same time with the Quintuple Star skill.

FriendStory

Maple World and the real world collide! Transport your Mapler from the digital realm to reality and take on the role of Shinsoo High's newest student. Arm yourself with a trusty smartphone and meet famous MapleStory characters in a new setting. Hang out with Mihile, Hawkeye, Eckhart, and all the rest in this alternate reality version of Maple World. Go to class, stand up to bullies, play matchmaker and receive rewards!

Back to the Old Maple

Ah, the Maple World of yesteryear, what fond memories we have of you! MapleStory has changed a lot since its launch, but now you have the chance to relive your favorite moments. Return to classic maps and take on powerful versions of Victoria Island bosses, including Mushmom and Dyle. Complete quests to receive Old Maple Coins, which can be exchanged for a variety of classic equips. It's our most nostalgic event ever!

If you join in he Maple Sports Day and complete some quests to receive Sports Day Coins, you can exchange for various scrolls, Victory equips, and even a chair with these coins, so be sure to continue to focus on Adventure Island news, do not miss the best time to collect gold coins.
Need MapleStory Mesos? Please Go To www.ms4mesos.com To Buy !


Contact Us
24/7 Email Support
Skype ID

For Game Currency :coolyou8
Buyer Complaints :[email protected] (For any dispute email, we'll reply within 24 hrs)
Kindly Reminder
Possible account termination when using illegal leveling or illegally obtained gold.