MapleStory Guide For Nova: Liberation Of Cadena
The descendant of the dragons is invited in MapleStory Nova: Liberation of Cadena!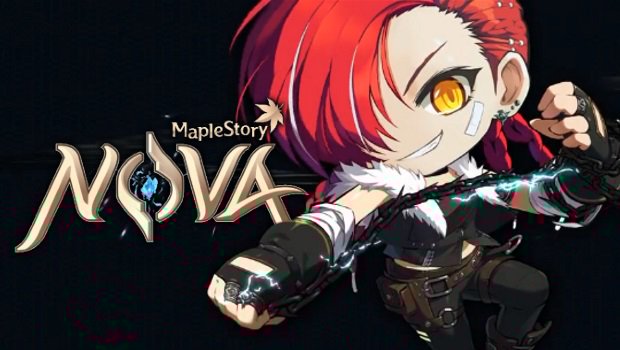 MapleStory Nova! Maple World shines bright with Nova Update: Liberation of Cadena! The ancestral MMORPG parallax MapleStory is a second youth with this new free content, to download urgently on PC via Steam or Nexon Launcher.
Liberation of Cadena, it's a lot of new sensations that make evolve the gameplay roleplaying action game Nexon, but also the lore of Maple World with the arrival of the smashing descendant of dragons, the vengeful Cadena, but also new skills of the fifth profession for all character classes, a new achievements system and original events, among others.
All new features are explained in this short video guide to Nova Update: Liberation of Cadena by MapleStory:
Nova update: Liberation of Cadena offers:
♦ New Original Character, Cadena – The sole survivor of the evil Magnus' attack on the Heliseum royal family, Cadena is a streetwise Thief raised by the Shadowdealers, and hardened by the rough-and-tumble backwater town of Savage Terminal. Cadena utilizes her Luck in preparation for revenge against the dastardly Magnus, and wields her trusty chain to ravage her enemies;
♦ Fifth Job Skills – Players can utilize new fifth job skills for all class types, such as Warrior, Magician, Bowman, Thief and Pirate. New skills include Ethereal Form, which allows Magicians to temporarily move to another dimension to reduce damage taken; and Overdrive, a Pirate job that enables players to push their weapons for max efficiency to deal immense damage for a limited time;
♦ Essential Gameplay Additions – For several years, MapleStory's developers have worked to analyze and apply player feedback as part of their 'A Better Maple' initiative to create an engaging, immersive and exciting experience for all Maplers. The Nova update features several helpful gameplay changes, including an increased character slot count of up to 42 characters per world, an item drop confirmation prompt, and adding Maple News that updates Maplers on the latest news and updates as soon as they log in;
♦ Extensive Achievements – The new Maple Achievements feature allows players to track in-game progress across several categories, such as player levels, exploration, questing, hunting monsters, defeating powerful bosses and more. Completing achievements earns players Achievement Points, which determines player Achievement Rank, and rewards players with unique insignias and impressive visual effects;
♦ Challenging Spirit Savior Dungeon – Return to Arcana in the tricky Spirit Savior daily dungeon. Save as many Rock Spirits as possible to earn valuable Spirit Coins, which can be exchanged for the rare Arcane Symbol: Arcana;
♦ Exuberant Events – Participate in numerous unique events, including the return of the Name Change Event, where players can reinvent themselves with a creative new name!
• Nova Boxes and Coins - Maplers can collect Nova Boxes and Nova Coins after defeating intense monsters, which can be exchanged for great rewards
• Breakthrough Nova Event - Players have the option to create a new character in the Breakthrough Nova Event, where they can level up their new character between Lv. 140 and 200 to complete missions and receive special gift boxes containing valuable Breakthrough Points
• Cryojet Mount – Pay a reasonable meso fee to board a special flying mount and travel over Henesys or Leafre, where players have thirty seconds to collect as many mesos as possible
• Dragon Pop – Acquire Dragon Energy and Dragon Pops to farm Nova Coins, equip useful rewards, and more
• Zero Creation Event – The popular Zero Creation Event returns, granting Maplers the opportunity to create a new character with the excellent Zero job
Contact Us
24/7 Email Support
Skype ID

For Game Currency :coolyou8
Buyer Complaints :[email protected] (For any dispute email, we'll reply within 24 hrs)
Kindly Reminder
Possible account termination when using illegal leveling or illegally obtained gold.